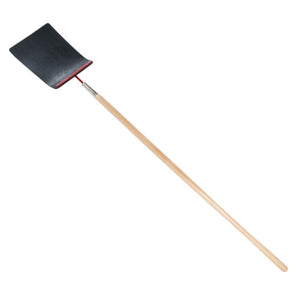 Fire swatter has a 60 in. handle. Sometimes referred to as a fire flap, flail or beater, this tool is used to smother fire. Typically it is used to control or direct flames during controlled burns or in conjunction with mop-up details after fires. Production of this item dates back to the 1920's. Older specifications may specify the flap as containing cotton ply's. This type material is no longer available.
Made in USA.
Flap is a masticated rubber piece of approximately 1/4′ in. diameter x 12 in. x 15 in.
Secured to a rectangular steel structure member with a welded stud which is forced into a ferrule.
Red enamel finish on the metal frame.
60 in american ash handle with a ferrule for strength and durability.
Bundled for shipment and handling.
If product is out of stock. Contact for current lead time or drop shipping options. Drop shipping, The items will come direct from the manufacturer. This will allow greater saving as we are not paying for product to keep in stock.