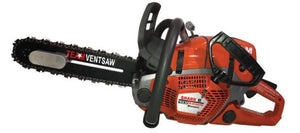 TEAM SHARK II VENTILATION CHAINSAW
TEAM SHARK II featuring a powerful Husqvarna 71cc gas engine for more demanding professional use. Packed with Fire Department upgrades and exceptional high torque, over a wide rpm range, this machine will run with you all day long under the most extreme conditions.
TEAM's Shark II ventilation chainsaw comes with your choice of 16" or 20" reversible bar, Terminator tungsten carbide tipped chain and a CDA-80 cutting depth adjuster. TEAM's "Shark II" Ventilation Chainsaw available through dealers nationwide.
FEATURES
"TERMINATOR" fire department tungsten carbide tipped chain.

CDA-80 CUTTING DEPTH ADJUSTER: Control depth of cut from 1″-8″ when plunge cutting and ventilating. Can be removed in seconds (without tools).

X-TORQ CLEAN POWER™: Up to 75% less exhaust emissions and 20% more fuel efficient.

"TURBO" AIR CLEANING SYSTEM: Removes 97% of dirt BEFORE it ever reaches the air filter.

COMBINED CHOKE/STOP CONTROL: Easier starting and reduces the risk of engine flooding.

DECOMPRESSION VALVE: Drastically reduces cylinder compression for easier starting.

D-HANDLE STARTER GRIP: Fire Department D-Handle starter grip for heavy gloved hand operation.

SMART START: Spin Start reduces the resistance in the starter cord by up to 40%.

INERTIA CHAIN BRAKE:  Senses kickback and stops chain in a fraction of a second.

ANTI-VIBRATION SYSTEM: Advanced damping drastically improves operator comfort and safety.

TURBO TECHNOLOGY: Improves air delivery to carburetor and improved cooling cylinder.

SNAP-LOCKED COVERS: Quick release covers for easy access to air filter and spark plug.

QUICK RELEASE AIR FILTER: Easier faster maintenance of your SHARK ventilation saw.

SIDE MOUNT CHAIN TENSIONER: Faster and more convenient chain adjusting.

ADJUSTABLE FLOW OIL PUMP: Keeps chain properly lubricated in diverse conditions.
TECHNICAL
Engine – Air cooled Husqvarna two stroke 5.5hp., 71cc maintenance free high-energy electronic ignition.

Powerhead Weight 14.6 lbs. (weight complete w/20″ bar and chain under 20 lbs.)

Fuel Tank  20.5 fl. oz.

Chain Oil Tank 14 fl. oz.

Max Power Speed 10,200 rpm

Saw Chain "TERMINATOR" fire department tungsten carbide tipped .404 pitch .063 drive link gauge

Guide Bar 16″, 20″ Depth adjuster slot centered allows bar to be reversed for extended bar life.